Recently, I often see people recommending various foods on the Internet, especially the instant seafood. Seeing that they are eating with relish, I also bought a few to try. I like this oyster. They have two flavors, spicy and garlic, because they have not eaten them, so I started with them together. When I got it, I was very relieved, because the oysters in this restaurant are still large and the portions are quite substantial. I personally think that the spicy flavor is better because the garlic flavor in the garlic flavor is a bit heavy. If you like it, you can still try it, but I still recommend the spicy flavor. The oysters themselves are very tender and spicy. Not only does it not cover the freshness of the oysters, but it also enhances the deliciousness, refreshing and appetizing, and it's finished all at once. There is also this ready-to-eat spicy crayfish. I used to buy raw crayfish to cook at home, but later I got lazy and bought this directly. Not to mention, the taste is really good. There are only shrimp tails in a whole can, so it is very convenient to eat, and the shrimp meat is very firm and elastic, which is really super delicious. In addition to the spicy flavor, there are garlic flavor and spicy flavor, which tastes very good, especially the spicy flavor, which will make you remember after eating.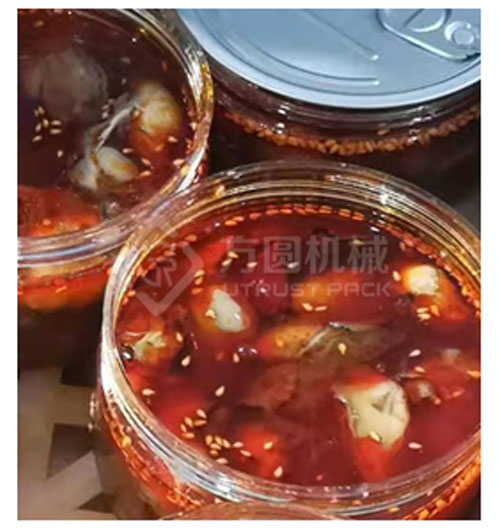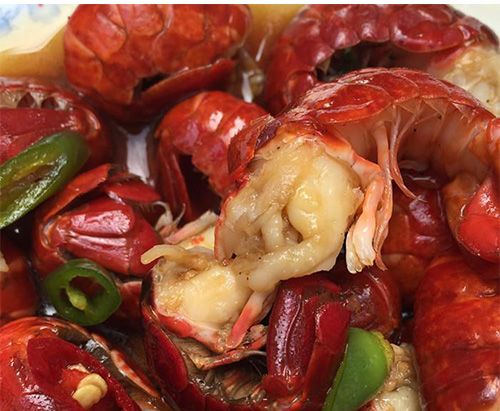 This kind of ready-to-eat, convenient and instant-to-eat delicacy has gradually become our eating habits. When you see these mouth-watering jars of delicacies in the supermarket, you can intuitively see the seafood that has been prepared even with sauces, just take it home and heat it up and eat it. We can pick a few more models to go home and put them in the freezer. Just warm it up when you want to eat it, it's that convenient. This time let the merchants grasp our stomachs accurately and satisfy those people who are greedy and lazy. Guangzhou Uturst Packaging Equipment Co., Ltd. also came to boost the business. These cans of ready-to-eat seafood need to be sealed and disinfected. Therefore, if the sealing is not handled properly, it will lead to the problem of direct waste of food. This way everyone knows that the jar cannot be sealed casually and needs to be absolutely sealed. Next, let me introduce a fully automatic CNC sealing machine with a lower circle.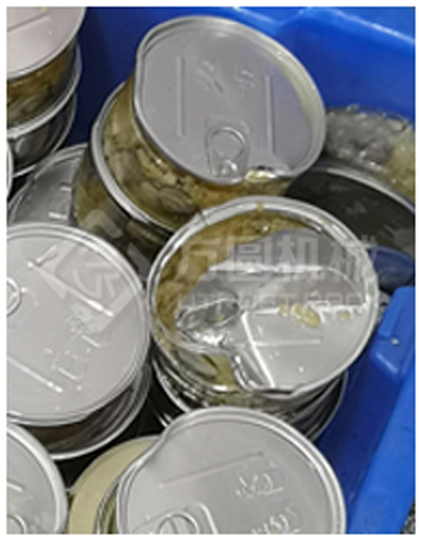 The latest generation of fully automatic CNC sealing machine
The fully automatic numerical control can sealing machine is a patented product designed and developed by the company itself. The specific advantages include: one-key start, the turntable automatically resets after booting, to ensure the normal operation of the production; The jam stop alarm function: effectively avoids the mechanical structure damage caused by the jam ; Turntable one-key reset function: After the jam problem is eliminated, one-key reset is convenient and quick; One-key setting of turntable alignment: When changing the mold turntable, turn the turntable to make it fit the sealing position, and then set it with one key It can be automatically memorized, intelligent and efficient, avoiding the tedious steps of manually tightening the screws and fine-tuning after changing the mold. The can seamer can easily reach a maximum speed of 50 cans per minute while maintaining a low frequency of 40 Hz. Compared with the traditional divider or ordinary servo-controlled can seaming machine, it can save more than 30% of electricity.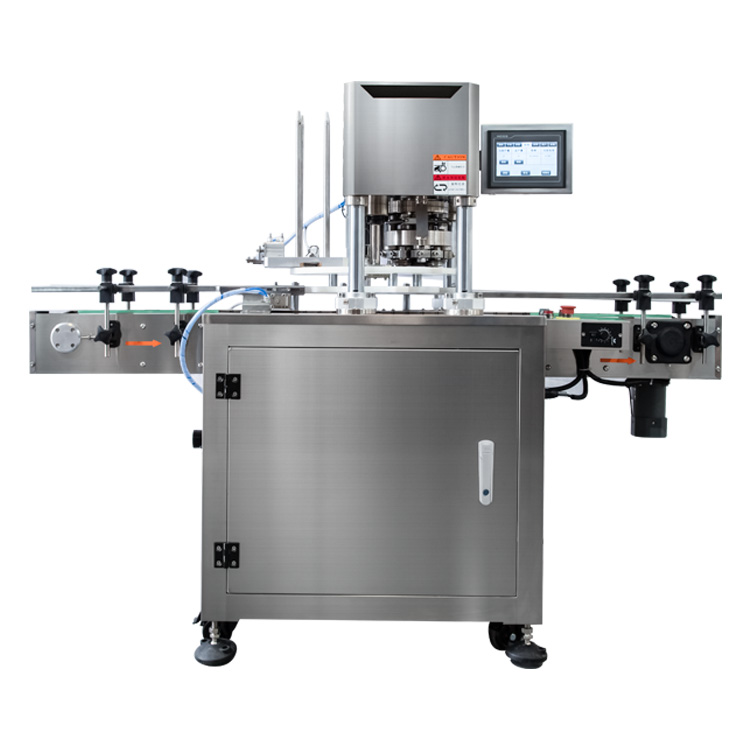 Product introduction:
1. This product is mainly suitable for round bottle sealing packaging of various PET plastic, iron, aluminum and paper cans. The product design is advanced, the structure is reasonable, and the operation is simple. It is suitable for food, medicine, tea and chemical industries. Necessary ideal packaging equipment;
2. The main body of this product is made of all stainless steel, with a simple and beautiful appearance, which meets the design requirements of most standard production workshops;
3. The parts and components of this product are processed with precision, and the production technology and craftsmanship have been accumulated and continuously improved by our company's long-term customer experience. The key parts adopt unique design, high strength, low noise, and good sealing performance;
4. This product is in compliance with national standards, ministerial standards, and corporate standards, and is allowed to leave the factory only after strict inspection and testing;
5. Fully automatic production line design, it is very easy to form a production line with filling system, weighing filling system or labeling system;
Features:
1.
adopt servo motor driven with simple structure, stable operation and low noise characteristics.
2.
Turntable automatic reset positioning after initiating;
3.
Auto stop and alarm function in case of cans stucking within the turntable, to effectively prevent mechanical structure damage
4.
One-button reset function for turntable positioning after taking out the cans
5.
Easy changing mould function: replace the turntable and the sealing position can be automatically memorized with one-button setting, so as to eliminate manual adjustment on the screws for different position.
6.
production capacity of 35-50 cans/min and easy to be connected with other machines for packing line.
7.
Sealing chuck head and sealing rollers are made with 440 c stainless steel material and go through vacuum quenching tempering heat treatment to ensure high hardness and durability.
8.
Can Body does not rotating with good sealing performance.
Suitable for a variety of cans including plastic cans, tinplate cans, aluminum cans, paper cans, and etc and widely applicable in food, beverage, and pharmaceutical industries.
Specifications:
Sealing Heads:one
Sealing Rollers:4
Roller Material:440C Stainless Steel
Machine Material:304 Stainless Steel
Control Module: PLC and Servo Motor Driven (with touch screen control)
Sealing Speed: 35-50 cans per minute (Voltage: AC220V 50/60Hz)
Sealing Height: 40-250mm adjustable
Sealing Diameter: 35-100mm(8 station)
Working Temperature: 0 ~ 45℃
Working humidity: 35 ~ 85%
Power:1.7KW
Weight:300KG
For more information, please contact:
Email: sales3@utrustpack.com
Whataspp/Wechat: +86 15800042255